Anyone have any experience with it? I have been researching it to make sure it is ok legally and the only thing I can find in the ORS 166.250 is the part referring to "(3) Firearms carried openly in belt holsters are not concealed within the meaning of this section."
Is an IWB holster considered a "belt holster"?
From what I see I would think, it is legal.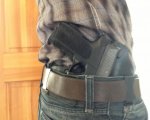 Last edited: