Joined

Dec 12, 2010
Messages

152
Location
I was told by the agent i talked to that if it was an NRA course it was good enough.... 50 rds fired from 21 feet in a 9" target with revolver and 50 from a semi auto.....

Sent from my SM-G920V using Tapatalk
Not at all accurate.
MN does not have a set shooting qualification, and there is nothing in the law that specifically allows for NRA courses.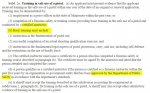 The Sheriff can of course accept any training he wishes, but I haven't met one yet that will take anything but a MNBCA certified course, and that's not a call that any BCA agent can make.